Peach Mint Green High Low Chiffon Bridesmaid Dress
1.If you want the custom size, when ordering, please choose any standard size, then write your measurements details in the message .
2.Standard size please check below listed size chart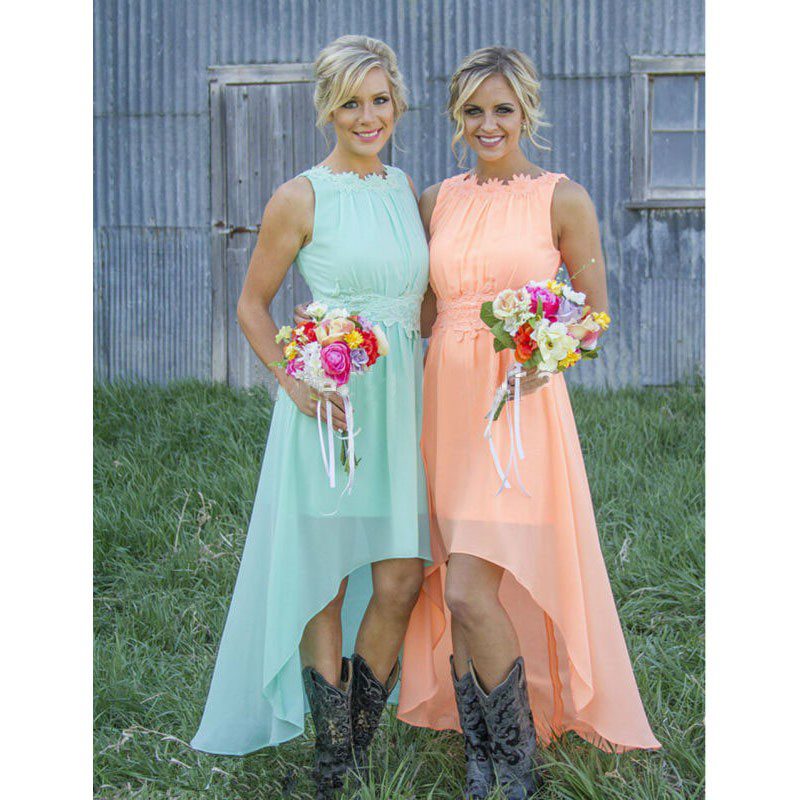 Returns
Order Cancellations
We understand that ordering a dress for your special occasion is an important undertaking, and our cancellation policy was created with this in mind. However, it is important to note that our dresses are made to order, and once the creation process has begun the materials cannot be reused. The good news is that after placing your order, there is still time to make up your mind. Please refer to our cancellation policy below for details.
Our Cancellations Policy
1.Orders canceled within 24 hours of payment confirmation will be eligible for a full refund.
2.Orders canceled 1-3 days after payment confirmation will be eligible for a partial refund consisting of the full shipping cost and 50% of the product purchase price.
3.Orders canceled after 3 days of payment confirmation will be eligible for a partial refund consisting of the full shipping cost.
4.Once your order has been shipped, it can no longer be cancelled.
Returning For Replacement or Refund
1.Your satisfaction is of utmost importance to us. Upon the arrival of your package, we encourage you to check and make sure that the dress has been made to your order specifications. Try on your dress as soon as possible without removing the tags, altering, or washing the dress.
2.If you are returning or exchanging dresses or accessories, please make sure they are in their original condition – unworn, unwashed, unaltered, undamaged, clean, free of lint and hair and with tags intact and attached.
Defective, Damaged or Misshipped Items
You are eligible for a refund of the full purchase price plus shipping costs for defective, damaged or mis-shipped items. If you believe your items were damaged during delivery, you must first obtain "Proof of Damage" documentation from your delivery carrier.
Sizing or Fitting Issues
As all of our dresses are hand-sewn and custom tailored, the finished gown may vary by approximately one (1) inch in either direction of the specified measurements.
Dress is not the size you ordered
Should your dress size differ from the specifications of your order by more than one inch, we encourage you to find a local tailor to make adjustments, and we will gladly reimburse you for up to 100% of the product price in tailoring costs. If you choose this option, please remember to request a receipt from your tailor as a copy of it must be provided when requesting reimbursement.
Dress is the size you ordered but does not fit
Dresses that do not fit properly but fit the specifications you ordered cannot be returned or exchanged.
Please note: if your order specifications differ too greatly from the final sizing request, resizing may not be possible
Return Process
1.Submit a return request to seller within 15 days of your order?s shipment*. Include an explanation and photographs documenting the reason for the return. Returns will not be accepted without prior approval from my shop.
2. Once our sellers has approved your request, please send the item and the completed Product Return Form back to us as soon as possible.
3. Once received at our facility, your return will be processed in 3 to 5 business days. Once your return is confirmed and inspected, please allow up to two billing cycles for it to be credited to your account. Items returned in unacceptable condition we will not be processed as refunds and will be shipped back to you.